12 October 2015
For my last post I did something I wanted to do in ages: stop motion. But I had nothing to hold my camera in the air and take pictures of my desk. This problem always blocked me to go further. Then I remembered about these old arcade games which are using a mirror inside: "Oh! There's something to try". It ended with the following set up.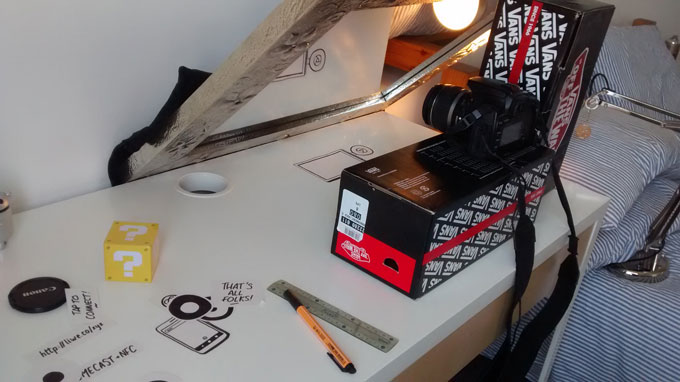 A big mirror, hold by a Vans box and covered with a T-Shirt to not damage the wall. Then another box to put the camera a bit up. A bit of light, and we are good to go.
It's not really complex, and I'm quite happy of the result for a first try. There's some things I've learn and some I will do differently next time.
Be sure the mirror angle is 45 degrees. Otherwise your picture will have a bit of perspective.
Use a remote for your camera. The risk to move during the shoot is too high, and retake a scene is not fun.
Define the exposure and don't change it. I made the silly mistake to leave it on automatic, which caused blinking effect.
Better light. I thought the day light with my lamp would be enough.
Use gel to stick element to the table, but remember to clean the marks for the next take.
Use thick paper, mine was too thin.
Prepare your storyboard
Avoid stacking elements, it's a mess to move. Like the smartphone in the last part, the screen is another element. Every time I was moving the phone, the screen was going away, I should have make another smartphone with this screen.
There will be another attempt, for sure.